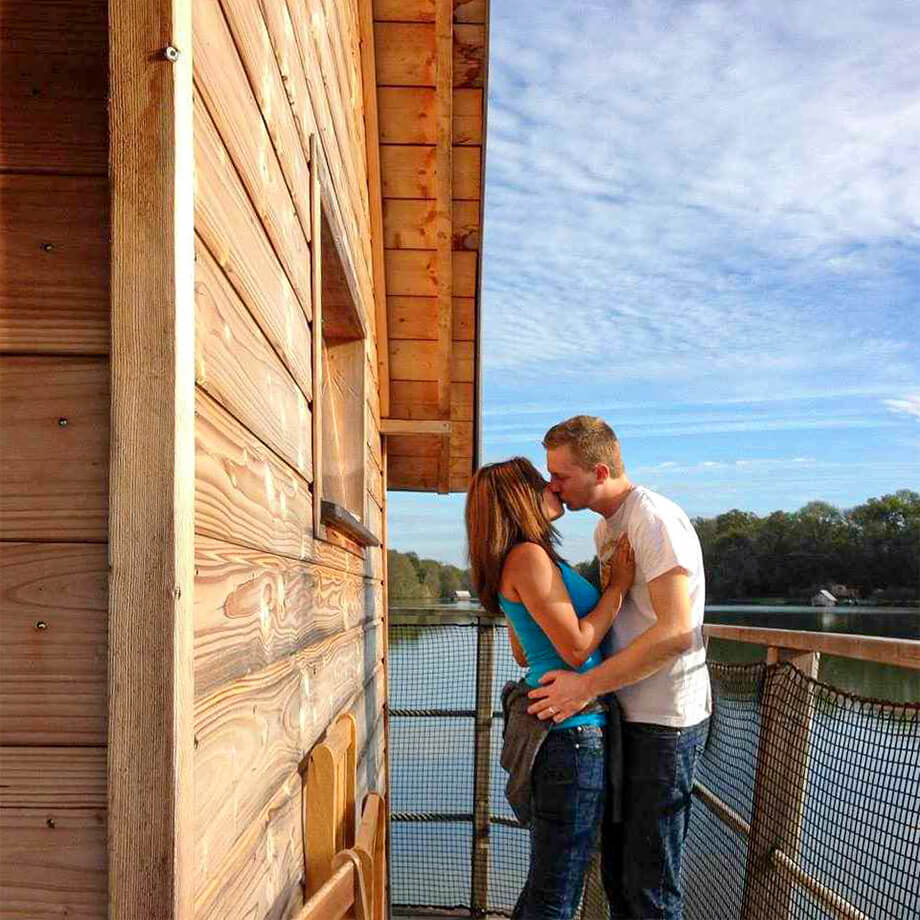 For every occasion, please a loved one, your family or your friends! Offer a gift coupon for an unforgettable night in one of our Lodges.
How does it work?
Select the type of gift coupon you want to offer (see details down below)
Add eventual services of your choice (aperitif, local products tasting, spa…)
Click on the link here and you can buy your gift coupon online!
At the reception of your payment, you will receive your gift coupon directly by email, or by mail send the next-day to the postal address indicated (the coupon is accompanied by a gift pouch and our illustrative brochure). Delay of 24 to 72h depending on the period.
Gift coupon for a lodge for 2 to 3 persons
Price for a night for 2, breaffast included

100€ the comfort roulotte
125€ the flo'tente adventure
125€ the nichoir OR the perched cabin comfort
145€ the cabin in the trees OR floating adventure
160€ the cocon perché Hiboux OR the floating COMFORT
185€ the Pigeonnier confort
185€* the perched luxury Sika
Price for a night for 3, breakfast included
180€ the cabin in the trees OR floating adventure
195€ the cocon perché des Hiboux
Offers
-10% from the 2nd night in the same lodge
Valid all year long
Options
15€ the aperitif basket for 2 (crisps, bread, terrine, 1/2 wine)
32€ the local products tasting for 2 (100% local products)
23€ the dinner basket per adult (appetizer, main course, cheese, desert, drink)
14€ the dinner basket per child (main course, desert, drink)
Activities of your choice (see details)
Terms
Valid 2 years
Privilege: the exclusive access to the swimming pool and the animal area
Advantage: modifiable (type or range of accommodation, number of persons…)
Gift pouch and illustrative brochure included
Shipping cost included