The Domaine de la Dombes, leisure park in Ain, 15 min from Bourg en Bresse; 15min from Villars les Dombes, invite you to celebrate your child's birthday outdoor.
2 FORMULAS:
One or several activities of your choice (see details and price down below) + Picnic table at your disposal on the spot to organize yourself the birthday party of your child.
WITH A BIRTHDAY PARTY 50€
One or several activities of your choice (see details and price down below) + Privatisation of a teepee for 3h with snacks included (cake and its candles, 2L on juice 100% fruits and illimited syrup, a cup of candies) up to 10 participants maximum. Privatisation time slots: 2pm to 5pm. A nice well decorated space on the theme of nature, ideal to store all the children's belongings and spend a convivial moment to blow candles with friends and unpack gifts.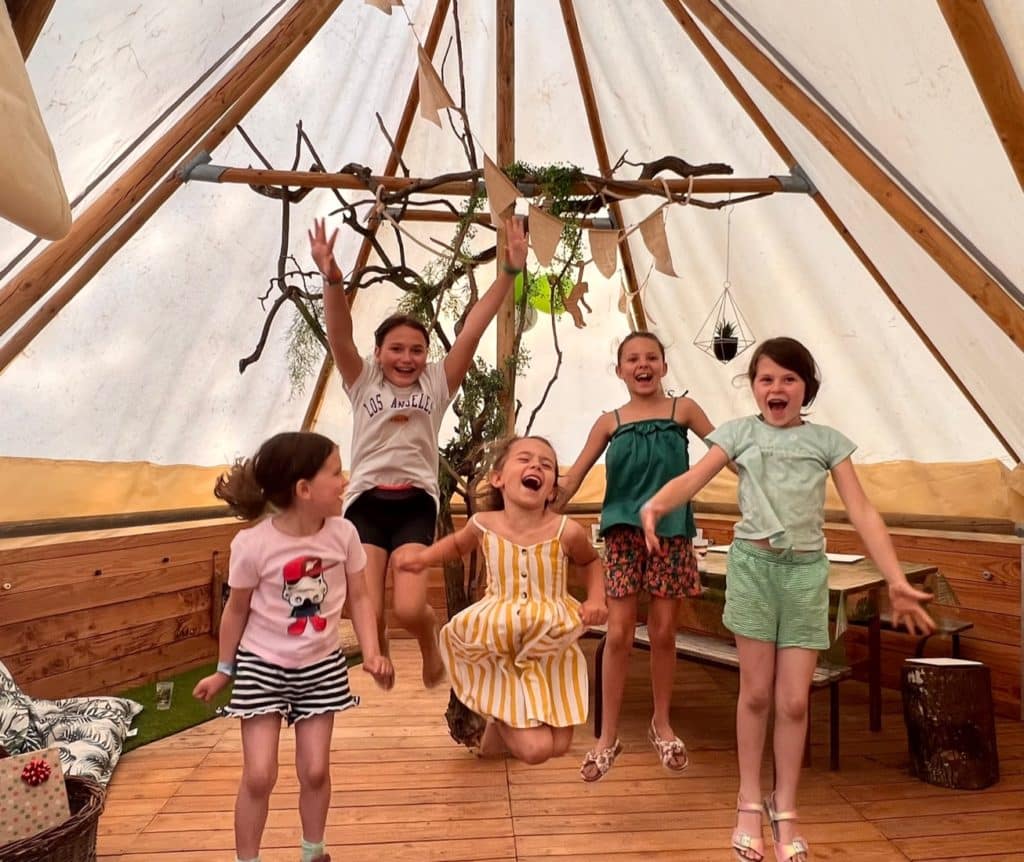 The activities
Need to move, jump, climb, unwind, choose a birthday at the treetop adventure park where he/she can unwind with their friends, without making a mess in the house! You want to combine fun and education, choose an educational visit to discover the animals of the Domaine.
Treetop adventure park
The park Accro Dombes and its 7 tracks of different levels: Surrounded by a young, dynamic and certified team, children will start with a briefing with the instructor, then access the tracks depending on the size and the formula chosen. To spend an unforgettable moment, the oldest will be able to challenge themselves and face each other in a timed challenge animated by the instructor.
Ouistiti formula (child from 1m) 10€/child
Enfant formula (child from 1m20) 16€/child
Junior formula (child from 1m30) 20€/child
???? Free formula for the child celebrating its birthday from 6 paying participants.
See the Accro Dombes park


Mini-golf
Mini-golf is always the occasion to spend a nice time with your friends! An individual sport but practiced in group, perfect for a birthday. The staff will provide:
4€/child
???? Free entry for the child celebrating its birthday from 6 paying participants.
Private visit with an animal carer
At the Domaine de la Dombes, your child's birthday can also be ludic and educational. Your child likes animals and nature? Discover our 2 animal visits that allow your children to slip in the skin of an animal carer. What an original birthday that children are not going to forget!
The nursery visit
For a lot of cuteness and taking care of the babies!
Ains'tant soigneur
In the skin of the animal carer
1h of privatisation with an animal carer for 6 persons max
60€
???? Certificate awarded to animal carer assistants
Know more about the visits

Multi-activities special offer on WEDNESDAYS
You can't make a choice, all the activities look nice. On wednesday it's wonderful because we can combine several activities for an out of the ordinary birthday. Prepare yourself for an adventure in real nature.
2h of activities (mini golf and treetop adventure park) 12€/child
3h of activities (mini golf, treetop adventure park and private animal visit with an animal carer) 19€/child
For the occasion, download the invitations for the participants
???? A coupon for a free treetop adventure park entry valid from the next-day (from 6 paying participants)
Important: 3h formula of activities limitated to 6 children max, and time slots for the animal visit to book in advance 4.15pm or 5.30pm depending on period and availibility – an accompanist parent obligatory.